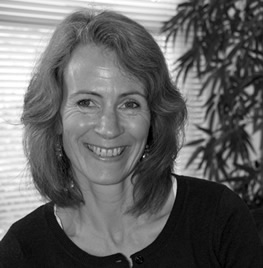 I originally studied English and Music and trained as a music teacher, but found myself drawn into the Mental Health field through teaching music to children with additional needs. I spent many years working in the community with adults with severe and enduring mental health problems, first in the NHS and then in the voluntary sector. My roles ranged from running groups to offering social and emotional support to individuals. I worked as part of a crisis team, ran a mental health service for women and managed day care for adults with long-term severe mental health problems in Bristol. I have management experience in both Education and in Mental Health.
It was while working in community mental health, that I felt drawn to working more closely with individuals and began my Gestalt Therapy training with Gestalt South West and then with the Centre for Humanistic Psychology and Counselling in Devon, where I have also undertaken additional group work training. I currently work as a counsellor in the voluntary sector as well as having a private practice.
Core values and confidentiality
My practice is guided by core values of respect, compassion and authenticity. Confidentiality is integral to my work, and it is only in exceptional circumstances that I would be required to breach confidentiality. This is discussed fully at your first session, or prior to that on the phone. As a member of the British Association for Counselling and Psychotherapy (BACP), I follow their Ethical Framework for Good Practice in Counselling and Psychotherapy. I receive regular professional supervision for my work and I am committed to continuing my own professional and personal development.
What I can offer
One to one counselling
Long-term therapy
Short-term focussed work
Group therapy
Personal Development work
Change management
"Counselling has been so good, so valuable and I now feel so much more confident in myself and able to trust my own judgement to make good choices for myself"